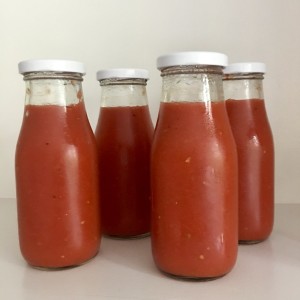 This delicious homemade ketchup has no added sweetener unlike big commercial versions that are loaded with the worst kind, high fructose corn syrup. Thanks to Anna Drewnowska for her recipe, which I tweaked and you can too! Play with the spices to your liking. This recipe makes a lot but keeps well in fridge, freezer or, if you sterilize the bottles, you can keep it in your pantry.
3 lbs ripe tomatoes, diced
1 large can (28 oz) San Marzano peeled tomatoes, diced
2 sweet red peppers
2 – 2.5 lbs sweet onions, peeled and diced
4 – 6 cloves garlic, peeled and diced
2 TB kosher salt
1/2 tsp ground pepper
1 tsp paprika (smokey if you have it)
1 tsp ginger
1/4 – 1/2 tsp cinnamon
1/4 tsp ground cloves
1/2 tsp chilli powder
1/2 cup apple cider vinegar
(Note:Next time I'll try adding some powdered mustard too.)
Put all ingredients in a large pot and bring to a boil. Turn down flame and simmer 50 – 60 minutes or until soft. Take off heat and add apple cider vinegar. Stir well, cool a little, then use an immersion blender to make the mixture smooth. Taste and correct the seasonings to your liking. If you don't have an immersion blender, you can use a regular blender to smooth it in batches but beware of hot spraying liquid. Pour into jars, cover and store in fridge unless you sterilized the jars.