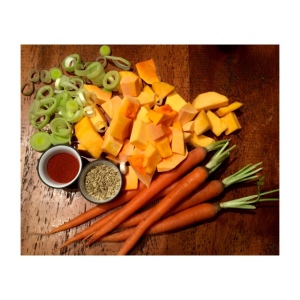 Fall is so beautiful but it always makes me a little happy sad. What makes me just plain happy? Digging out my big soup pot and cheering things up with this gorgeous fall soup bursting with color and flavor. It's so easy to make and full of good stuff to ward off the cold.
(Makes a big momma vat of soup, at least 8 servings or more. So invite some friends over and share it.)
2 tablespoons butter
3 – 4 leeks, outer leaves removed, cut lengthwise, rinsed, and chopped
2 pounds carrots, peeled if thicker than your thumb, and sliced
2 cups butternut squash, cubed
2 – 3 medium potatoes, peeled and cubed
8 cups chicken or vegetable broth
2 – 3 teaspoons curry powder
¼ teaspoon of nutmeg
Salt and pepper to taste
Parsley, fined minced
Sauté the leeks in the butter in a large pot.
Add carrots, squash, potatoes, and broth.
Bring to a boil then immediately reduce the flame to simmer, cover the pot and cook for 45 minutes.
Add curry powder and nutmeg.
Cool and puree using immersion blender or food processor.
Add salt and pepper to taste.
Garnish with parsley before serving.