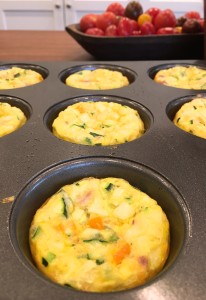 This is an easy make-ahead breakfast or snack based on a recipe from the Egg Board. Try  experimenting with different vegetables such as fresh baby spinach and mushrooms, or add meats such as Canadian bacon or ham. (Makes 12 muffins which is 6 servings)
Ingredients
6 eggs
1/2 cup low fat or skim milk
1/4 tsp salt
1/8 tsp pepper
1 cup shredded low-fat cheese (Mexican blend works well)
1 cup chopped zucchini
1/3 cup chopped red, orange, or yellow pepper
2 Tbsp chopped red onion
1. Heat oven to 350 degrees.
2. Beat together eggs, milk, salt and pepper.
3. Add cheese and vegetables, and mix well
4. Spoon into 12 greased muffin cups – about 1/4 cup each.
5. Bake in 350 oven until just set 20 – 22 minutes.Cool on wire rack then remove from cups.
Serve warm, room temperature, cool, or reheat in the microwave for a few seconds.