Invite me for dinner and I'll bring you this yummy blueberry tart.The recipe came from my mom and always gets a big 'wow' reaction!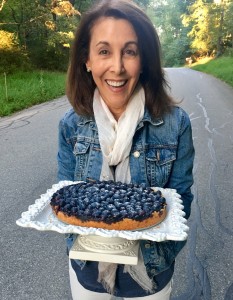 Crust: (sometimes I make 1.5 x crust for thicker version)
1 stick butter
1 cup flour (you can use whole wheat pastry but I use white flour)
2 TBSP sugar
1 TBSP white vinegar
Mix the above in mixer or food processor pulsing just until barely mixed. Use your hands to press crust into a 9″ removeable bottom spring form pan and about 1″ up sides of pan.
Filling:
6 cups blueberries
3/4 cup sugar
1/4 tsp cinnamon
2 TBSP flour
1 – 2 TBSP lemon juice
(Ice cream or whipped cream if desired)
Preheat oven to 400 degrees.
Pile 3- 4 cups blueberries into crust. Mix sugar, cinnamon and flour together and sprinkle evenly over blueberries. Squeeze lemon juice on top.
Cook tart 50 – 55 minues, remove from oven and immediately pile the remaining berries evenly on top. They will sink into cooked mixture a bit. Let tart cool then sprinkle with confectioners sugar after removing sides of tart pan.